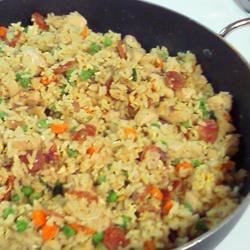 Ingredients
2 teaspoons sesame oil
1/2 cup chopped onion
2 garlic cloves, minced
1 pound skinless, boneless chicken breasts, cut into 1/2-inch pieces
1 cup uncooked brown rice
1 tablespoon reduced-sodium soy sauce
1 cup diced carrots
2 1/4 cups reduced-sodium chicken broth
1/2 teaspoon salt
1/4 teaspoon ground black pepper
1/2 cup frozen green peas, thawed
1/4 cup chopped green onions

Directions
Heat oil in a medium saucepan over medium heat. Add onion and garlic and sautée 2 minutes, until soft. Place chicken in saucepan and sautée 5 minutes, until browned on all sides, stirring frequently. Add rice and cook 1 minute, until translucent. Stir in soy sauce to coat rice.
Add carrots, chicken broth, salt and pepper and bring mixture to a boil. Reduce heat, cover and simmer 30 minutes, until liquid is absorbed and rice is tender.
Stir in peas and green onions and heat through.