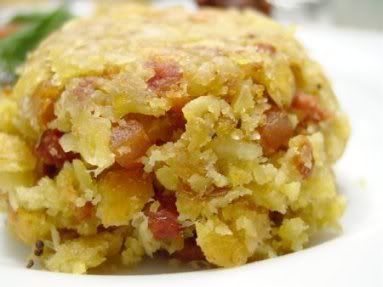 Ingredients:
1 lb of pork cracklings
1 cup of oil
2 1/2 teaspoons of salt
4 unripe plantains
4 cups of prepared beef stock
2 tablespoons of mashed garlic
Direction:
Before starting to cook:
Peel the plantains and cut into 1/2-inch thick pieces.
Sauté the garlic with a teaspoon of olive oil. Reserve.
In a deep frying pan heat the oil and fry the plantains till golden brown.
Using a pilón (wooden mortar) mash the plantains, garlic and cracklings together. Until well mixed.
**Tip. Do not OVER mash, it is BEST chunky..