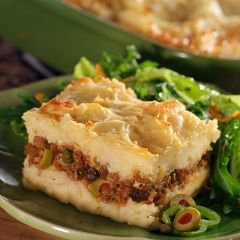 Ingredients:
6 cups of mashed potatoes
1/2 cup of grated mozzarella cheese
1/2 cup of butter
1 tablespoon of parsley finely diced
1/2 lb. of ground beef
2 tablespoons of oil
1 tablespoon of tomato paste
1 small onion diced into very small cubes
1 green pepper diced into very small cubes
1 pinch of black pepper
1 pinch of oregano
2 tablespoons of mashed garlic
2 eggs
1/2 cup of evaporated milk
Salt
Direction:
Before starting to cook:
Butter up a 3-inch tall baking pan. Heat up the oven to 350 °F.
Season the meat with salt, pepper, onions, green pepper, and oregano. Or simply use Sofrito. In a shallow pan heat a tablespoon of oil. Add the ground beef and stir so it cooks evenly. Add two tablespoons of water and the tomato paste, Let simmer at medium heat. Adjust water when necessary. When the meat is ready let all the liquid evaporate, adjust salt to taste. Turn off the heat and reserve.
Mix the milk, butter, eggs, garlic, parsley and salt to taste, add the mashed potatoes and mix well. Put half of this mixture in the baking pan, cover with the meat and finally cover with the remaining potatoes. Bake until the top is light golden. Let cool down, take out of the mold, cover with the mozzarella and put in the oven until the cheese melts.